After the explosion of Kakhovka HEPP in Ukraine's Kherson region last week, many settlements in the region were submerged. While the search and rescue efforts started after the incident, which affected approximately 16 thousand people, some neighborhoods of the city of Kherson, whose water level fell, started to come to life.
Citizens returning to the city carry out cleaning and renovation works in their houses and businesses that were damaged by the flood.

"I will continue to live in my house by making renovations"
Kherson resident Mikola Trohimçuk stated that she moved away from the city with her 2 dogs during the flood and said, "We experienced the flood. The situation is severe. We are struggling, I believe we will get through this."
Explaining that he started to make renovations in his house, Trohimçuk said, "I will continue to live in my house by making renovations. I am waiting for the water to go away completely. I do not want to leave here. My children and grandchildren were born here, I spent my life in this house."
Emphasizing that the war disrupted their life order, Trohimçuk said, "We were working before the war, the children were going to school. I am also retired but working. It is difficult to talk about these, but we will overcome all these problems." used the phrase.
Irina, who started cleaning her house, said that the first floor of her house was under water and said, "Even though we live next to the river, we were not prepared for this. We are in a difficult situation, but there is nothing we can do. My friend from Kiev came to help, as you can see, we are mobilized. We support each other." .
Sharing the joy of surviving, Irina expressed her hope that they will overcome all difficulties.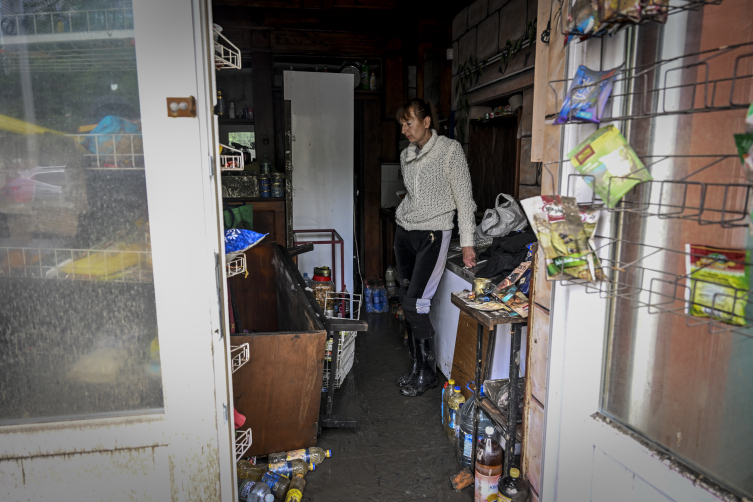 "The grocery store has no solid place"
Elena, the owner of the business, emphasized that the grocery store was in a "grave" condition after the flood, and said, "I have to throw away all the materials. The grocery store has no place left. Refrigerator, freezer, everything became garbage. The water even took the doors of the grocery store. I don't even want to calculate how much I lost. , because I know I will be more upset," he said.
Drawing attention to the fact that the area she is in is under the control of the Ukrainian army, Elena noted that artillery shells were continuously fired against the city.