In the last 16 round of the UEFA Champions League, Napoli and Frankfurt will meet in Italy at 23:00 CEST tonight.
Before the match, a fight broke out between the supporters of the 2 teams. After the events that grew with the intervention of the police, the place turned into a war zone.
According to the news in the Italian press, approximately 600 guest team fans, who came to Naples despite the fact that the Italian Ministry of Interior did not allow ticket sales on public security grounds, walked towards the historic city center without permission in the afternoon. It was reported that German hooligans attacked the security forces accompanying them with torches, explosives, stones and chairs from nearby restaurants when they arrived at Gesu Square.
While the security forces intervened with tear gas against the hooligans, there was a clash from time to time.
In the incidents, it was stated that while other cars and garbage cans in the square, including a police vehicle, were set on fire, businesses such as restaurants and bars in the vicinity were also seriously damaged.
It was recorded that while the police took the events under control with difficulty and took the German supporters to their hotels, some Neapolitans from the surrounding threw stones at the buses with the German supporters.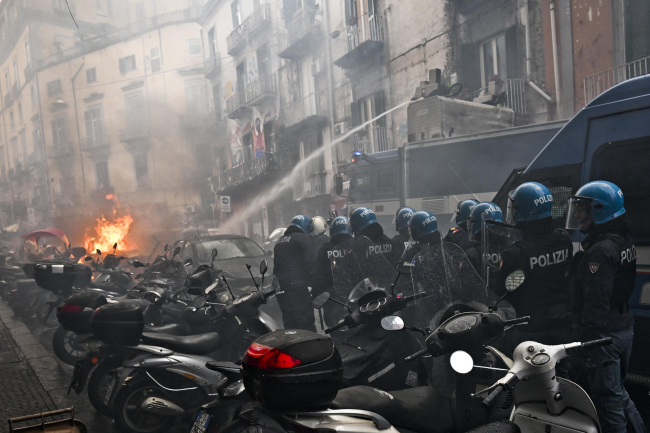 Italian press: "City war in Naples"
Naples Mayor Gaetano Manfredi said in a written statement regarding the events in their city, "Scenes of destruction in the city center are unacceptable. We condemn those who are the main actors of these acts of violence in the strongest terms. Naples and Naples do not deserve to be harmed financially."
Italian Deputy Prime Minister and Minister of Transport and Infrastructure Matteo Salvini shared the image of the moment when German hooligans threw torches and explosives at the Italian security forces on his Instagram account, "These are not fans, they are criminals and vile criminals. I wonder if they can do the same in Germany? ' he said.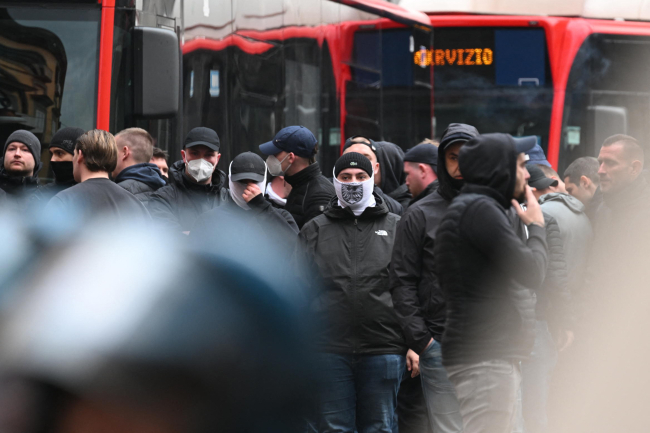 The Italian press wrote that the historical center of the city turned into a battlefield as a result of the events unleashed by the German fans, and the images reflected from Naples resembled a "city war".
As events broke out before the match between Napoli and Eintracht Frankfurt on February 21 in Germany, the Italian Ministry of Interior banned German fans from watching the match in Naples from the stadium, citing public safety.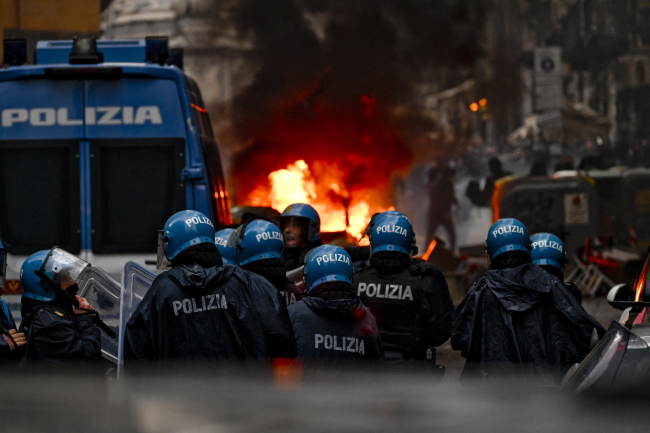 As a result of the appeal made to the court of appeal, this ban was partially lifted and it was announced that ticket sales to those coming from Frankfurt and residing there were prohibited, and that ticket sales would be made to German fans outside this scope.
UEFA President Aleksander Ceferin, in a statement to the German press yesterday, described the away ban imposed on Eintracht Frankfurt fans as "unacceptable".
Napoli, which won the first game away 2-0, was the advantageous side for the tour.