According to the Israeli Public Broadcasting Corporation (KAN), Israeli police intervened in demonstrators who tried to block Ayalon Street in central Tel Aviv with iron barriers and set fire to it.
Two of the police officers who tried to disperse the demonstrators with TOMA, tear gas cannons and mounted units were injured by thrown glass bottles.
Yediot Ahronot Newspaper, on the other hand, wrote that 5 demonstrators were detained in the incident, and there was a clash between the opponents of the judicial regulation and their supporters near Ayalon Street.
The demonstrators announced that they will continue their demonstrations because Netanyahu did not stop the judicial regulation completely, but only postponed it.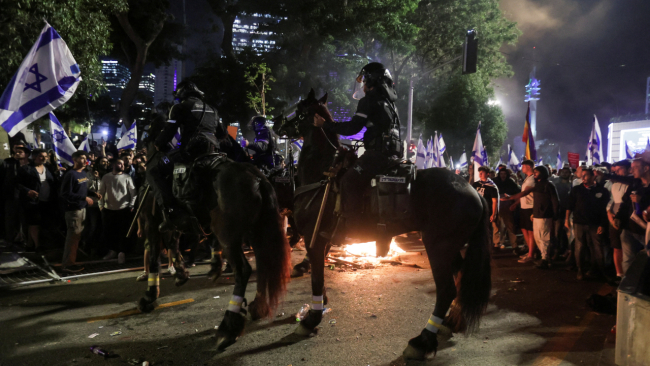 Netanyahu government's controversial 'judicial reform'
Minister of Justice Yariv Levin announced on January 5 that they were planning a "judicial reform" that would limit the powers of the Supreme Court and allow the government to have a say in judicial appointments.
Netanyahu announced on March 27 that he was postponing the judicial regulation, which caused mass protests and strikes across the country.