According to information received from local sources, a military helicopter affiliated with the Israeli army was seen launching rockets at some points in the city of Jenin.
"Helicopters opened fire after gunmen were detected in the Jenin area," the Israeli army said in a statement. statement was included.
In the statement, it was stated that the units of the Israeli army raided Jenin to detain 2 Palestinians, and intense clashes were experienced with the Palestinian insurgents who responded to the raid.
In the statement, it was stated that while Israeli forces were leaving the area, one of the armored military vehicles was hit by a hand-made explosive and the vehicle was damaged.
Israeli media reported that the airstrike was carried out with an Apache (AH-64) type helicopter.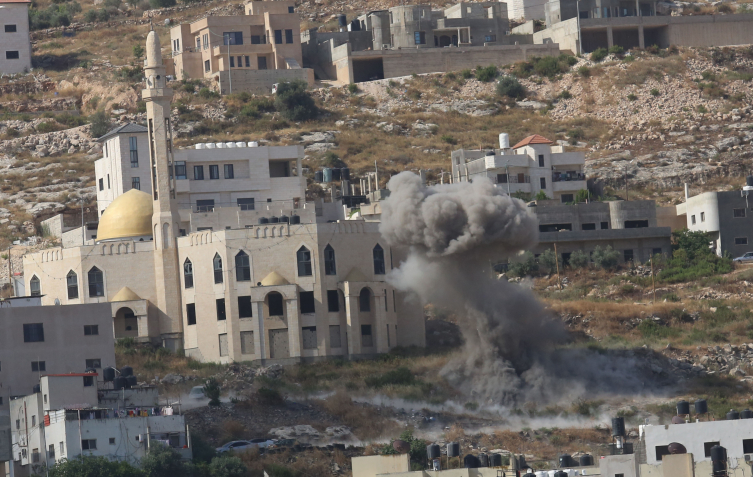 It was stated that the helicopter bombardment aimed to evacuate some Israeli soldiers, who were injured and exposed to intense fire from Palestinian insurgents, from the scene.
It was pointed out that with this attack, the Israeli army applied for an air operation in the West Bank for the first time in more than 20 years.
The Israeli army used attack helicopters in its attacks in the occupied West Bank in the early 2000s, but this was not a routine method but only a special occasion.

The raid was carried out in the morning.
Israeli forces had killed 3 Palestinians, one of them a child, and injured 31 Palestinians, in the raid carried out with dozens of armored military vehicles in the early hours of the morning on the city of Jenin in the north of the West Bank.
Israeli forces had intervened with the local Palestinian youth, who reacted to the raid, with live bullets, gas and sound bombs.
Six Israeli soldiers, who were targeted by the Palestinian insurgents who responded to the attack by the Israeli forces, were also wounded.