Azerbaijanis flocked to the Main Feryadi Monument in Baku to commemorate the 613 people massacred by Armenians in Khojaly.
First, an official ceremony was held at the Ana Feryadı Monument with the participation of President Ilham Aliyev, and then the monument was opened to the public.
[Fotoğraf: AA]
Those who came to the monument with Azerbaijani flags and posters left carnations. The people of Khojaly who managed to survive the massacre and the relatives of those who lost their lives also visited the monument.
While some of the martyrs' relatives and citizens were praying, others could not hold back their tears by remembering the painful event that happened 31 years ago.

"International law did not work against the massacres where the world was deaf and dumb"
Turkey's Ambassador to Baku Cahit Bağcı, embassy employees and representatives of Turkish institutions and organizations in Baku also visited the Ana Feryadı Monument and commemorated the victims of the Khojaly Massacre.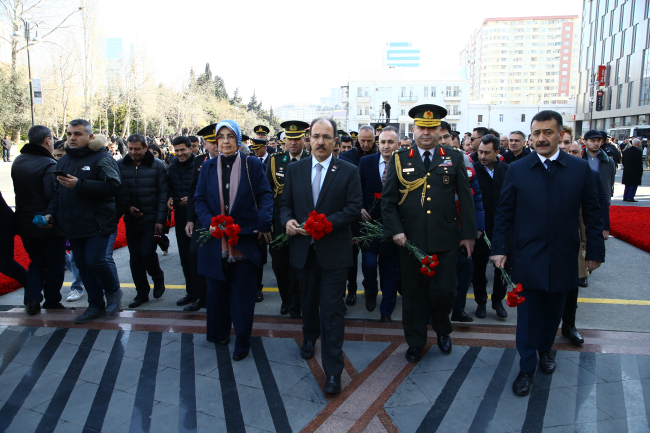 [Fotoğraf: AA]
In a statement to the press after the visit, Ambassador Bagci said that Armenians committed many massacres in the 1st Karabakh War and the fate of 3,860 Azerbaijanis who disappeared at that time is still unknown today.
Bagci, "International law did not work against the massacres in which the world was deaf and dumb. All 4 resolutions taken by the United Nations Security Council were not implemented, but the pain, pain and longing for the homeland of 30 years turned into joy, enthusiasm and victory with the 44-day war for the homeland. Turkey stands by and stands behind Azerbaijan's just cause, as it always has been. Today, Turkey and Azerbaijan say, 'We are stronger together.' He took his relations to the next level by saying" he said.

What happened in Khojaly?
With the collapse of the Soviet Union, the Armenians, who started to make territorial claims against Azerbaijan and went on the offensive, took action to seize Khojaly, which was besieged in the last days of 1991, which has the only airport in the region and is of strategic importance.
Intensifying their attacks, which lasted for months, on February 25, 1992, the Armenians attacked from three sides at night with the help of the 366th motorized regiment of the Soviet Russian army, which was in Khankendi at that time.
Not content with just the occupation, the Armenians committed one of the bloodiest massacres of the 20th century by massacring civilians and brutally torturing the captives. Images and photographs taken at that time reveal the enormity of the massacre.
In Khojaly, where 7 thousand people lived before, 613 Azerbaijani citizens, 106 women, 70 elderly, 63 children, lost their lives. 487 people survived the massacre with serious injuries, Armenian forces captured 1275 people, 150 of them still have not been heard from.