Recently, US Central Intelligence Agency (CIA) President William Burns ignited a debate that will be talked about for many years on many platforms.
In fact, since the beginning of the Ukraine war in February 2022, US officials have been warning of the consequences of China's attempts to intervene in the war on the side of Russia.
Burns, on the other hand, made several points different from the statements made in the past. The most important of these was the claim that Russia, whose relations with both the USA and Europe deteriorated, and oil and natural gas exports were prevented, could be a colony of China.
Here are the full words of the CIA Director:

"Russia is becoming more and more dependent on China. Their dependence on energy resources and raw material exports is growing, and in a way they risk becoming an economic colony of China."

So, in what context did Burns say these words?
The subject, of course, was Ukraine. In an interview with CBS, Burns drew attention to the possibility of China providing "deadly weapons" to support Russia in the Ukraine war.
Going even further, he said, "We are confident that the Chinese leadership is considering providing lethal weapons."
These statements indicated a radical change compared to the Biden administration's past assessments on this issue.
Because, in a speech he made to students at Georgetown University in early April, the CIA Director said that Chinese President Xi Jinping was "very reluctant to supply deadly weapons, which Russia cares so much, for use in Ukraine."
In the interview in question, Burns emphasized that China has not yet made the decision to send lethal aid to Russia, and said, "We do not see any evidence that a final decision has been made yet and that the deadly equipment has been shipped."
Asked whether the purpose of the US administration to share this information was to deter China from its decision to send deadly aid, he replied, "This is the plan. It would be a very risky and unwise step for Xi to provide this."
Burns asked, 'Does the CIA know what Xi's view on this is?' He answered a question in the form of:

"I think the Chinese are trying to assess the consequences of the concerns we have expressed about providing lethal equipment. There are points where they will face some serious consequences and we have tried to clarify that."
There is a clarity that is seen as very important in the two interviews given by the CIA Director, one month apart. First, the United States is more serious about the "deadly" weapon to be supplied to Russia.
Second, they have concerns about where Sino-Russian relations might evolve.

What do the economic indicators say?
According to International Energy Agency data, before the start of the Ukraine War, namely in 2021, the EU imported 155 billion cubic meters of natural gas from Russia. LNG imports accounted for 15 billion cubic meters of this amount. While Russia's share in the EU's total gas imports was 45 percent, its share in total gas consumption was calculated as 40 percent.
After the Ukraine War, Russia's natural gas exports fell sharply. However, Russia did not find it difficult to find new markets.

New Market: China
It would be more accurate to interpret CIA Director Burns' words through the statements of Russian Deputy Prime Minister Aleksandr Novak.
Novak, in his statement recently, said that the energy resources that Russia sent to Europe were directed to new markets to a significant extent.

"We diverted 20 percent of the oil we sent to Europe to Asian markets like China and India."
Novak pointed out that a similar situation is experienced in natural gas exports:

"We reduced natural gas shipments to Europe by about 30 percent and diverted some of it to Asia. In particular, we increased shipments to China by about 50 percent through the Power of Siberia."

Oil revenues rise despite embargoes
Russian Deputy Prime Minister Aleksandr Novak stated that his country increased its oil production and exports last year:

"Budget revenues from the oil and natural gas sector also increased by 28 percent to 2.5 trillion rubles in 2022."
Pointing out that the Russian oil sector completed 2022 efficiently despite the sanctions of "unfriendly" countries, Novak said, "535 million tons of oil was produced last year, which means 10 million tons, or 2 percent increase, compared to 2021."
Stating that oil exports also increased by 7 percent last year compared to 2021, Novak drew attention to shipments to China via the Power of Siberia natural gas pipeline:

"The budget revenues from the oil and natural gas sector also increased by 28 percent to 2.5 trillion rubles (approximately $37 billion) in 2022. Shipment via the Power of Siberia reached a record 15.5 billion cubic meters."

Relations between the two countries deepen
Russia, Ukraine; China, on the other hand, is having a crisis with the West over Taiwan. Both countries support each other in many areas.
The trade volume between Beijing and Moscow is the biggest indicator of the deepening relations.
So much so that, while it was 148 billion dollars between the two countries in 2021, this figure reached a record level with 190 billion dollars in 2022.
In February 2021, the leaders of the two countries met at the Beijing winter Olympics. Signed a strategic cooperation vision document.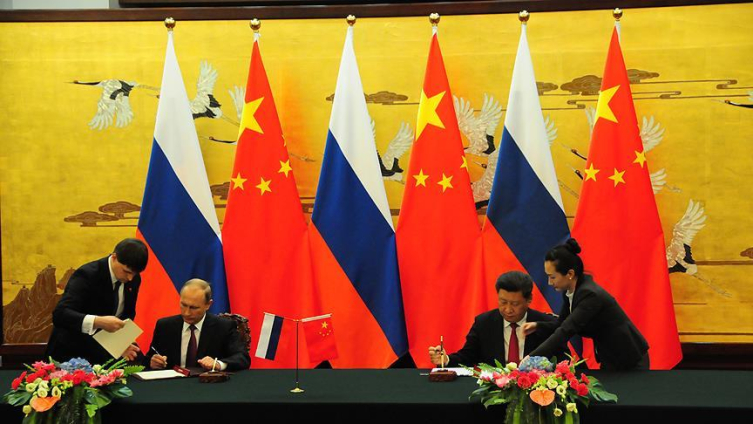 Chinese President Xi made his first overseas visit to Russia after the epidemic. This visit was seen as both support for Russia, which is at war with Ukraine, and an indication of the importance attributed to the deepening relations.
On the other hand, for the Shanghai Cooperation Organization to be more effective on the Eurasian scale, it is the common agenda item of Moscow and Beijing. Because both countries often talk about the existence of a non-unipolar world.
Trade relations and overlapping political vision, which increased at a record level especially with the Ukraine War, may make Beijing and Moscow one of the important partners of the multipolar world.
However, the "risk of turning into an economic colony of China" that CIA Director Buns said about Russia will also maintain its importance in the long run, depending on the West's attitude towards Russia.
Although Sino-Russian relations are improving, as many important writers and thinkers have pointed out, the volatile policy in the Beijing-Mokova line will be the Russian politics of the USA and Europe.