FUCZ member Spahovic, 49, told how they named the kitten she found in Hatay, where she participated in search and rescue efforts, after Aleyna, which symbolizes "miraculous salvation", and how they lived in Turkey.
Noting that they could not believe what they saw when they came to Turkey, Spahovic said, "We saw images like the apocalypse. The region we visited with vehicles and helicopters was very scary.
Noting that a man came to them at around 02:00 one night and asked them to reach his family, Spahovic said that they started to work and they found a sneaker belonging to the child and handed it over to his father.
Spahovic said, "Our 12-hour shift was about to end, just as I was leaving the field, I turned around and saw that man sitting on the bucket and crying. I will never forget that moment."

"This cat will be the symbol of life"
Stating that they worked for 8 days in coordination with AFAD teams, Spahovic said, "When we received the information that we would return to Bosnia and Herzegovina, we went to the camp where we were staying to get ready, and a cat came across me. It was as if it was sent to us by God, it was afraid and trembling. I took the cat in my arms and told him 'Bosnia with us'. you're going.' I said. He was with us in the vehicle and we fed him."
Noting that they started to think about what to name the cat, Spahovic said, "We focused on what we experienced in Turkey. We thought of the girl (17-year-old Aleyna Ölmez), who was rescued at the 248th hour of the earthquake. Thus, we named the cat Aleyna." said.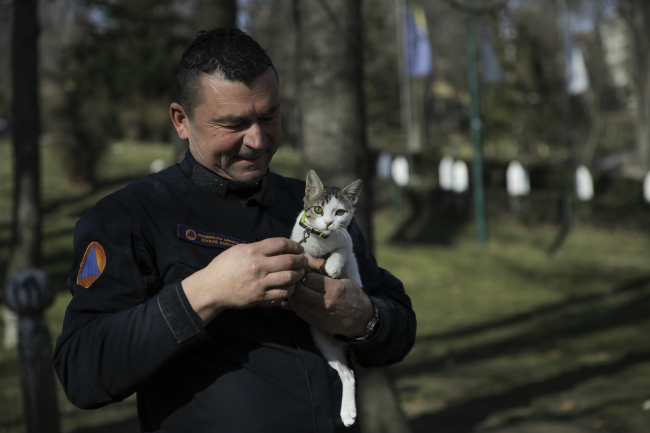 Expressing that the cat will remain a memory for them (from Turkey), Spahovic said, "(The cat) Unfortunately, it will always remind us of the pain of Turkish citizens, but it will also keep the memory of the little girl who survived. This cat will be a symbol of life. The effects of trauma are gradually decreasing. He now eats and sleeps well," he said.
Spahovic stated that what they experienced during the days they spent in Turkey had a great impact on them, and said that they had to seek psychological support, that what happened was heavy, but they would struggle to return to their daily lives.