Leading names of the technology world, including Elon Musk, in Silicon Valley called for artificial intelligence to be stopped until the necessary regulations are made.
Soon after, doctors, trainers and the business world made similar calls.
But artificial intelligence, far from stopping, continues to evolve and converge.
The final step came from OpenAI.
OpenAI has released a ChatGPT app for iOS. The new app provides a way to take OpenAI's AI chatbot with you on the go.
In other words, a 'thinking technology' becomes a guest on mobile phones for those who intend to use it.

It will be accessible for both IOS and Android users
According to the company's statement, the free app will work on iPhones and iPads, support voice input, and sync your history across devices.
Just like using ChatGPT on a computer, the iOS app will be able to answer questions, help with travel plans or write poetry.
OpenAI said the rollout of the iOS app has started in the US and will expand to more countries in the coming weeks.
The company also reminded that Android users will get their own versions "soon".
In other words, soon all mobile phone users will have the opportunity to carry 'a stranger in their pocket'.
So, what kind of problems can ChatGPT's expanding usage area by landing on phones cause?
METU Department of Computer Education and Instructional Technologies Faculty Member and METU-BİLTIR Central Digital Transformation Platform Coordination Board Member Assoc. Dr. Tarkan Gürbüz answered TRT Haber's questions on the subject.
[ Doç. Dr. Tarkan Gürbüz]

Artificial intelligence will be more accessible
Tarkan Gürbüz says that artificial intelligence is a field that has been studied for many years, but it has become more visible and flexible with ChatGPT developed by OpenAI.
According to Tarkan Gürbüz, ChatGPT will be more accessible and widespread with this application.
With its use in mobile devices, artificial intelligence is now in the palm of our hand. Thus, we can say that the usage areas will increase by diversifying. The development continues after the studies. What they can do in the near future will be even more surprising. For example, coding and product development will be easier with the help of some applications without an artificial intelligence expert.

There are also serious risks and warnings
ChatGPT reveals a different kind of computer-human interaction and machine-human collaboration. There are some very important points to consider in this regard.
According to Gürbüz, it is of course very important to be conscious in the use of ChatGPT, as in any vehicle use. Otherwise, many problems may arise.
For example, healthcare professionals say that technological developments can cause health problems.
For this reason, health issues should also be emphasized in relation to technology addiction and other health problems that may arise.
However, it should be known that artificial intelligence applications have made significant progress in the health sector in recent years. ChatGPT; It can generate human-like responses to a wide variety of queries, making it an ideal tool for healthcare applications.
ChatGPT; From personalized treatment plans to remote patient monitoring, it is changing and transforming the way healthcare providers deliver care to their patients.

How will artificial intelligence affect the future of education?
Educators say that there may be a situation where it will become more difficult to reach real information.
Tarkan Gürbüz also draws attention to the importance of the source of information.
While tools like ChatGPT can often produce answers that seem reasonable, they cannot be relied upon to be consistently accurate. Sometimes, it may present an argument that is meaningless or false. It can also make up source names, direct quotes, and some details. It can even distort the truth in some matters. For these reasons, it is crucial that students know how to evaluate the reliability of information using reliable sources. ChatGPT is a powerful tool that, when used correctly, can help students brainstorm and save time on typing. In writing, you can think of him as your own personal guide, assistant, assistant."

What risks might artificial intelligence be so accessible?
AI has the potential to enable promising technologies such as driverless vehicles, rapid scientific discovery tools, and digital assistants for medical image analysis.
On the other hand, it has the potential to produce solutions in areas such as intelligence empowerment, strategy formation, social manipulation, hacking, technology development and economic productivity.
Unfortunately, there appears to be a possibility that some of these solutions could be abused by malicious groups.
While the cost of human labor or specialist attacks is reduced in this way, new threats may emerge that exploit vulnerabilities in artificial intelligence systems.

"Artificial intelligence can be biased"
AI solutions can automate labor-intensive cyberattacks, coordinate fleets of drones, allow mass surveillance through facial recognition and social data mining, or create realistic fake videos for political propaganda.
Some researchers worry that AI may make biased decisions because algorithms are only as good as the data they feed on.
Some futurists also worry that the consequences of uncontrollable AI could be very bad.
Some speculative speculation suggests the possibility that AI's capabilities could grow very rapidly over the next few decades as it goes through iterative self-development, and is already discussing the dangers that machine superintelligence could pose.
On the other hand, another group believes that intelligent systems have inherent limitations in increasing their predictive capabilities autonomously, and that doomsday scenarios are unlikely, if not demonstrably impossible, to occur.
According to Gürbüz, the future of ChatGPT technology is full of possibilities and opportunities. But it also involves various challenges and risks.
With the right policies, we can work towards a future where AI systems are friendly, free of malicious people, and where underlying technology continues to drive productivity and innovation. We can make the most of this great technology by prioritizing strong security features, continually improving datasets, and balancing technology with people skills.

Can artificial intelligence replace search engines?
Google has been experimenting with what ChatGPT can do for a long time and has launched a chatbot within Google.
In fact, Google recently integrated AI directly into search results, making it nearly impossible to avoid interaction with AI.
What about ChatGPT or Google?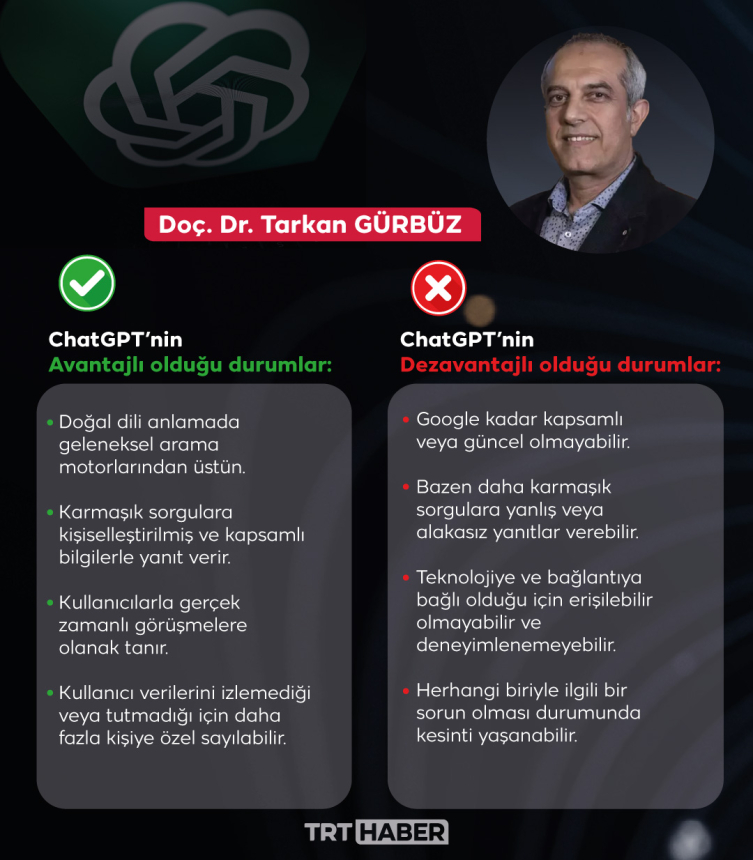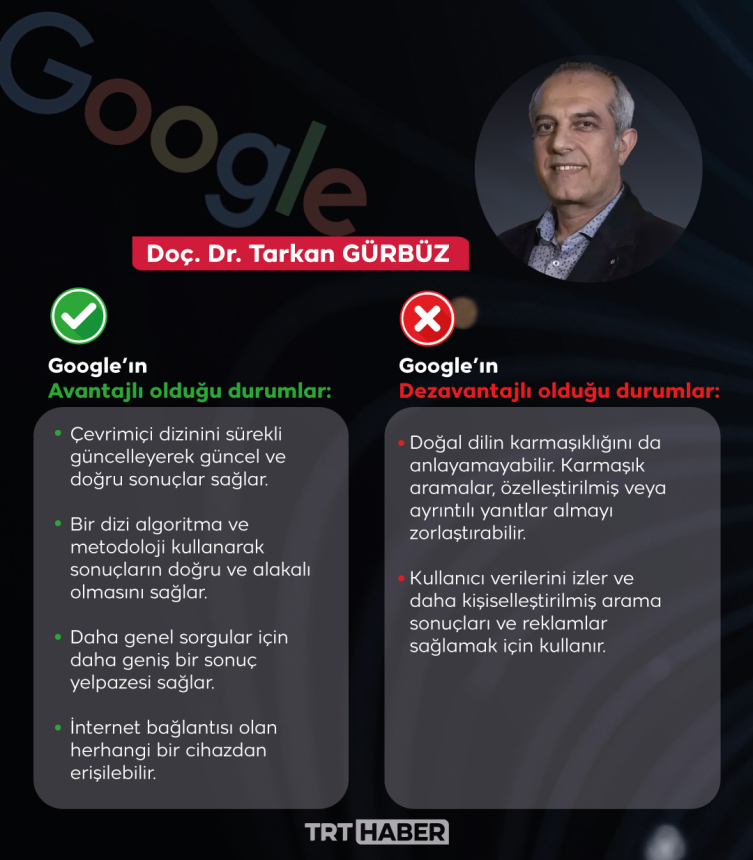 As we can see, both have their own advantages and disadvantages.
While Google search is better at providing up-to-date and accurate results, ChatGPT seems to be better at understanding natural language and providing customized answers.

Which one you choose depends on what you are looking for.
According to Tarkan Gürbüz, the choice between a search engine and an artificial intelligence chatbot depends on what the user is searching for.
If they need personalized or detailed answers to complex queries, ChatGPT may be a better option.
In the case of more general information or the need to quickly access results on a variety of devices, Google search may be a more reliable choice.
For example, as natural language processing and artificial intelligence become more sophisticated, ChatGPT can get better at handling complex queries.
Similarly, Google search may become more accurate and relevant as it continues to expand its index and incorporate new technologies such as machine learning.
In conclusion, it would be unfair to say that one is superior to the other, as both solutions have their own advantages and disadvantages.

How do we get the right information?
ChatGPT can respond directly to a query, adapting itself to the conversation like a human can.
The answers it provides are based on patterns it learns from the text data it's trained on, so the quality of its answers can vary.
ChatGPT can only provide truly remarkable answers, provided the information provided is clear and interpretable.
According to Gürbüz, if there is enough information, he will execute the commands with the correct details. Otherwise, there is a possibility that ChatGPT will fill in the blanks with incorrect data.

The secret to good use is asking the right questions
ChatGPT is not perfect. Therefore, Gürbüz draws attention to the importance of knowing the subject well in order to give the right command.

– It is necessary to use the language well. It is necessary to be able to ask some questions in different sentences.

– Every time you use ChatGPT, take the time to truly understand the content it generates in relation to your question.

– If you're getting an answer to a question or a list of helpful words, try to remember everything patiently for future use.
– You should feel confident to use ChatGPT in a variety of situations, increasing your speed and efficiency in a range of different tasks.
– When you ask your question correctly and better and elaborate your query, ChatGPT can seem to produce very successful original results.
However, we should be aware that since ChatGPT is produced from texts already produced on the Internet, these may sometimes be inaccurate information and the resulting product will not be very original.
How can an artificial intelligence that reaches down to mobile phones benefit people?
Mobile applications designed to work on a mobile device such as a phone, tablet or watch allow people to find solutions to problems by using these tools while on the go.
According to Gürbüz, since more data flow will be provided with mobile applications, the development of these technologies will accelerate and it will be possible to come up with better solutions.
APPLICATION; It will allow users to interact comfortably with ChatGPT, allowing them to benefit from the power of artificial intelligence supported chatbot anytime, anywhere. The launch of ChatGPT on iOS devices will not only benefit end users, but also provide developers with new ways to create innovative and engaging apps. The availability of ChatGPT's capabilities on iOS could open up possible avenues for integrating chat-based AI into a wide variety of iOS apps, making them more interactive and intelligent.
As a result, it is expected that the solutions and products to be produced will make a remarkable progress, while the possibility of developing new technologies to be more and more effective on education and learning.
This, of course, opens new doors in the field of instructional technologies to explore new tools and digital trends, and creates a need for researchers to conduct scientific studies.