The employment problem is one of Gaza's priority issues due to the ongoing Israeli blockade, inadequacies in infrastructure and investment, restrictions on entry and exit from the region, and restrictions on exports and imports.
According to official data, the poverty rate in Gaza reached 65 percent and the unemployment rate reached 46 percent.
The Turkish Cooperation and Coordination Agency (TIKA), which focuses on income generating, production and employment-providing projects in Palestine, carried out the "Model Farm Establishment Project" in cooperation with the Gaza Agriculture and Environment Association, which carries out agricultural activities in Gaza.
Within the scope of the project, two decares of greenhouses were built on four decares of land, and one decare of land was used as agricultural land. In addition to the construction of a barn for sheep and goat breeding, a section for beekeeping was also arranged.
TIKA Palestine Coordinator Orhan Aydın stated that the model farm plans to employ 10 full and part time people throughout the year.
Aydın said, "In this model farm, it is aimed to organize education programs in addition to production in the field of agriculture and animal husbandry, and to enable the students of the Gaza agriculture faculty to study and research." said.
A TIKA official stated that some of the income to be obtained from the productions on the farm will also provide food aid to families in need.
Osman Siyam, Director of Gaza Agriculture and Environment Association, stated that the project is a "symbol of hope" not only as an employment provider and income generator, but also as a research center for farmers and students.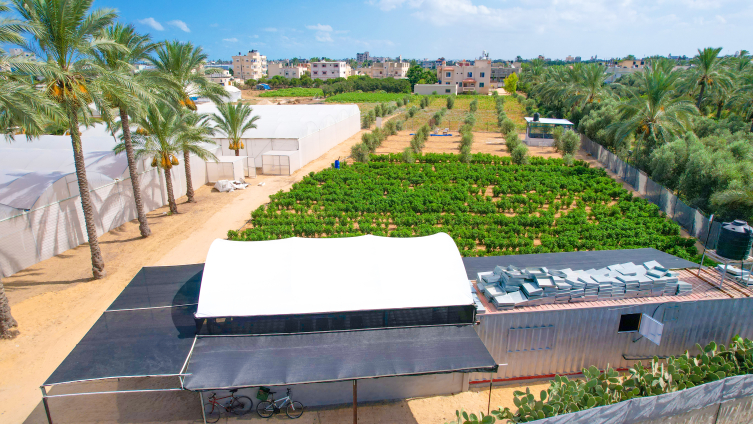 [Fotoğraf: AA]
Expressing that the project is important for combating climate change and sustainable agricultural practices, Siam expressed his gratitude to the Turkish people, the Republic of Turkey and TIKA for the support given to the project.
Israel has been blockading the Gaza Strip, where approximately 2 million Palestinians live, by land, sea and air since 2006.